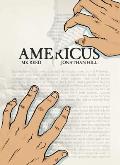 I first sampled this story as the webcomic
Save Apathea
. In print form, the graphic novel by scripter M. K. Reed and artist Jonathan Hill is titled
Americus
. And what valuable lessons about life does it hold for its readers?
The one that came through most clearly for me was:
People with dark hair are good.
Any Americus character who appears for more than one scene and has inked-in hair is smarter, funnier, more tolerant, and more interesting than the average person. People with lighter hair, left uncolored in this black-and-white book, can be nice or nasty, but all the major nasty people have lighter hair. Only three minor characters with dark hair break this rule, two just by being boring.

Unfortunately, that simple dichotomy reflects the overall story, which follows a protest against a fantasy novel in the library of a small American town. The woman challenging the book is not only self-righteous, but also bigoted, duplicitous, tyrannical, violent, and—just to cap the stereotype—overweight.

The further away the story gets from that central conflict, the more true-to-life it seems. The main character's social struggles as a high-school freshman, the horizons that literature and music can open up, the potential depths in some supporting characters—those details seem real and intriguing. In that respect, the title Americus plays to the book's strengths: the portrait of a community is stronger than the battle to save the Apathea books in the fictional town library.