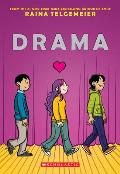 Color is an element of comics I have very little handle on. I can spot broad patterns, like the
contrasting worlds of brownish-red and blue-green
in the
Artemis Fowle adaptations
. But more subtle color schemes need to be spelled out for me. (
Spider-Man
's early villains were often green and purple because those contrast with his own red and blue—ohhh!)
I therefore latched onto this passage from
Graphic Novel Reporter's interview
with
Raina Telgemeier
about
Drama
:
You worked with design studio Gurihiru to create a color scheme for this book that perfectly complements the tone of the story. Tell us a little bit about how you went about that.

Gurihiru (a two-women team, Kawano and Sasaki) is responsible for some of my favorite art and comics of the past half-decade or so. They illustrated the rebooted Marvel Power Pack series, and they're working on the Avatar: The Last Airbender: The Lost Adventures with Gene Yang right now. They have a really soft, pleasing color palette, so I looked to them to help create the jewel-toned world of Callie's universe, which I love.



In some cases, I had really clear ideas—the story is set in a specific part of California, where the weather and atmosphere are very distinctive. And because Gurihiru are Japanese and work through a translator, there were a few instances where they needed solid American references. Soda cans, the bookstore scene, things like that.
In the
New York Times Book Review
,
Ada Calhoun praised
that element of the art: "Telgemeier's use of color, created with the design team Gurihiru, is eloquent; Callie's amethyst-colored hair complements her suburb's sky-blue skies and pistachio-green grass."
Frankly I don't see coloring the skies "sky-blue" to be that much of a stretch. But once the interview called it to my attention I could see how Telgemeier and Gurihiru had found a rich, luminous palette even as they stayed away from the stark primaries.